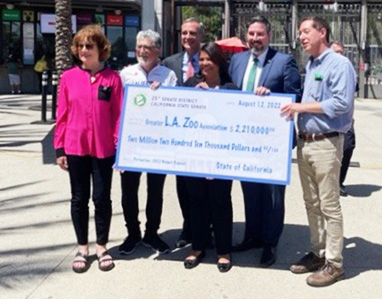 By Mary O'KEEFE
On Nov. 28, 1966 the Los Angeles Zoo first opened its gates at 5333 Zoo Drive. In 1981 it was the 11th zoo in the nation to establish a research department. Its goal is to "undertake studies aimed at increasing knowledge of zoo animals' behavior, facilitating reproduction and improving living conditions," according to the Zoo's website.
The LA Zoo has been an educational, recreational and just fun place for families to visit since it first opened. On Friday that tradition was given a boost when a really big check, literally and figuratively, of $2.2 million was presented to Zoo officials secured by State Senate Anthony Portantino as part of an allocation from the 2022-23 state budget.
"It's a great day to be at the Zoo," Portantino said during a media event on Friday.
The senator was joined by LA Mayor Eric Garcetti, CEO and Zoo Director Denise Verret, Tom Jacobson, president of the Great Los Angeles Zoo Association (GLAZA), and Brian Diamond, board president GLAZA.
"Thank you [Senator Portantino] for being a great champion for the [LA Zoo]," Garcetti said.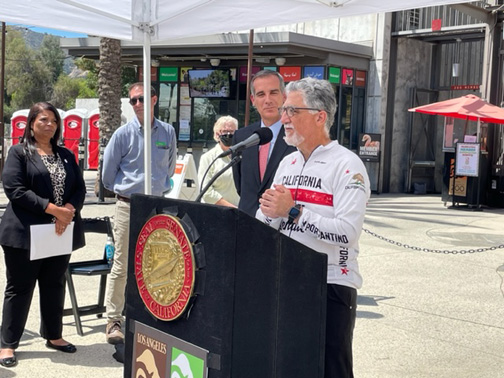 In the past, the Zoo raised funds to repair specific areas or would get large donations to build additions but now the Zoo can set in motion plans for property improvements rather than responding to unexpected needed repairs.
"Now we have an LA Zoo Vision Plan and it is key to maintaining this place as a gateway to wonder," Garcetti said.
As part of the Vision Plan the state funds will help support the Zoo's biodiversity and renovation projects including the completion of Swan Lake and the Angela Collier Garden – an educational and event space – and support the two California condors, Thelma and Louise.
In addition, the Vision Plan states there will be 162% more space for animals. Space dedicated solely to animals and their welfare will provide room to meet the individual needs of each animal. In addition, six acres of trees inside the Zoo, including the coastal live oak woodlands, over 100 California oak and Southern California black walnut trees, will be preserved.
"The future of Los Angeles is green, so the [Vision] Plan achieves its goals for increased animal space while saving habitat with zero expansion into Griffith Park. Rainwater and runoff is captured to reduce water consumption by 44%, while integrated solar systems power 45% of the Zoo's energy use," according to the Vision Plan.
"This is the first time in our history that state budget funds have been provided to the Zoo," Verret said. "Senator Portantino's leadership and long-standing support to the Zoo, along with our partnership with the Greater Los Angeles Zoo Association, has yielded the Zoo $2.2 million in state funding to improve animal welfare with upgraded exhibits [and] enhanced outdoor spaces for our guests and provide us with the tools to create an inclusive space for all Angelenos."
While the LA Zoo is owned and maintained by the City of LA, it depends on the support of the LA Zoo members, those who visit the zoo and those who make private donations.
Among those LA Zoo members on hand for the donation presentation was City of Glendale Mayor Ardy Kassakhian who said he has been coming to the Zoo since he was a child and he and his family are still members. He praised Senator Portantino for his support of the facility.
The senator has been able to secure funding for many organizations including funds to help affordable housing projects in Glendale and Burbank, and funding for Rockhaven Sanitarium.
"I try to be judicious in the organizations I fight for," Portantino said. "Obviously they have to be an organization that has a great mission and broad support. I take the responsibility seriously of being a shepherd of the taxpayer dollars."
He added he wanted to help the Zoo's "great" conservation and expansion plan, and said the improvements would serve a lot of people.
Zoos across the country have, of late, focused on climate change educational projects.
"I think one of the best ways for young people and their families to learn about climate change is [to come] to the zoo where they learn about habitat," said Garcetti. "They understand so many habitats are strained and, when they are strained, that can lead to [species] extinction."
Due to climate change, many more species of animals are threatened with extinction than any other time in civilization, he added.
"The consequences of climate change aren't just about hotter days, it's about losing some of these beautiful creatures," Garcetti said.
The funds will not only help those targeted areas but also will free up funds for other areas of the Plan.
"There will be a more sustainable entrance where people will understand the connection of ecology, animals and plants together with climate change," he added.
The LA Zoo is open daily from 10 a.m. to 5 p.m. To learn more, visit www.lazoo.org.