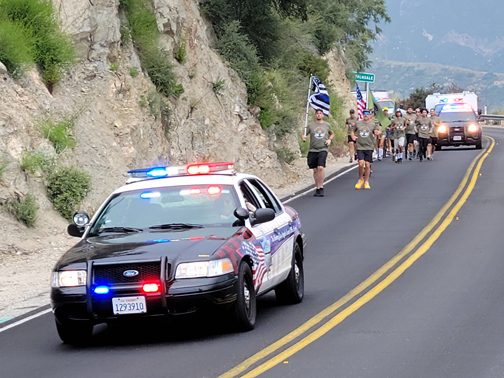 By Mary O'KEEFE
On Sunday, May 21, community members might have seen a group of Los Angeles County Sheriff Dept. (LASD) personnel running down Angeles Crest Highway, then west across Foothill Boulevard to the Crescenta Valley Sheriff's Station on Briggs Avenue. The participants of this particular leg of the Memorial Torch Relay were members of the CV Station and Montrose Search and Rescue team. The event honors officers who lost their lives in each of the stations in Los Angeles County, according to Sgt. John Gilbert, LASD/CV Station.
The relay runners carried the torch then handed it off to representatives from the Altadena Sheriff Station, who then ran the last leg of the event to their station.
"From 1850, when Los Angeles County was first formed, until the beginning of 1970, less than 300 law enforcement officers from agencies throughout the county had been killed in the line of duty. In the early 1970s, there was a dramatic increase of the number of officers killed. In just a five-year period, between 1970 and early 1975, 12 LA County Sheriff deputies were killed in the line of duty. During one traffic stop in 1970, four California Highway Patrol officers were killed by two suspects," according to Sheriff's Relief Association.
In April 1975, Sgt. Lee Stahl wanted the public to be aware of the deputies who died. He borrowed the idea from the Olympic Torch Run and created the relay run that goes from station to station. The run has evolved over the years. The course now consists of 56 five-to-10-mile legs for a total of 313 miles, each leg passing county stations.
"The torch started at the Hall of Justice and went from station to station over the weekend," Gilbert said. "We received the torch from Palmdale Station and passed it off to Altadena Station. This year, the Memorial Torch Relay honors 10 fallen heroes. This is an LASD-only event, but other departments have similar runs."
The Memorial Torch Relay is coordinated by the LA Sheriff's Athletic Association. Each runner from a specific station can choose how many legs of the race they would like to run. Some ran one leg; others ran more.
Below are the legs that the CV Station members ran:
Leg 1 began at noon at Angeles Forest (ANF) Highway mile marker 15.30 continuing to ANF Hwy mm 20.53 for a total of 5.2 miles.
Leg 2 began at 1 p.m. at ANF Hwy mm 20.53 continuing to Angeles Crest Hwy (ACH) mm 32.82 totaling 5.4 miles.
Leg 3 began at 2 p.m. at ACH mm 32.82 continuing to ANC (at the ranger station) totaling 5.2 miles.
Leg 4 began at 3 p.m. at ANC ranger station continuing to the CV Station totaling 5.5 miles.
Running the first three legs from the CV Sheriff's team were Deputy John Hong, Retired Deputy Alan Bennett and Custody Assistant Christal Espinoza. Retired Law Enforcement Technician Diva Burns completed the first three legs on her bicycle. CV Sgt. John Lee ran large parts of all four legs along with Reserve Deputy Corey Ballentoni. Members of the Montrose Search and Rescue (MSAR) team ran the final leg to the station and included Doug Cramoline, Robert Sheedy, Dr. John Rodarte and Matt Anderson, along with MSAR trainees Jesse Cripps, Sean Morrisrow and Elliot Fernstom.
Gilbert ran a little over two legs totaling 12.2 miles. The Altadena runners included Dep. Zamora Jr., his son Juan Zamora III, Dep. Iglesis and Dep. Andrew Garza. Altadena Sheriff Station Captain Jabari Williams joined the runners by bicycling to the station.