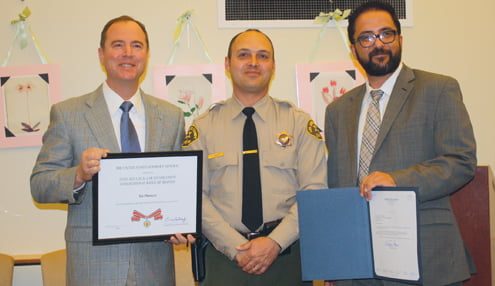 Congressman Adam Schiff presents Congressional Badge of Bravery to local deputy.
By Brandon HENSLEY
Los Angeles County Sheriff's Deputy Tai Plunkett was recognized in a big way during the Crescenta Valley Town Council meeting on March 20 when Rep. Adam Schiff presented Plunkett with the Congressional Badge of Bravery for his actions during a domestic assault incident in 2012.
Plunkett was off duty in Burbank on Nov. 21, 2012 when he saw an altercation between a man and a woman with two children present. According to officials, the man drew a large knife, and the children tried to intervene. Plunkett, who was without a firearm, went to stop the man as well.
Plunkett eventually subdued the man until law enforcement arrived. The woman was stabbed several times, but did make a full recovery.
"But for the intervention of Deputy Plunkett, she may very well have been deceased," Schiff said. "So it was an extraordinary act of bravery and courage … we thank God that he was there."
Plunkett received a standing ovation from the audience, including many friends and family who were in attendance.


"Being on the department for 15 years, I know a lot of good people … many of them would have done the same thing. I'm glad for the recognition, but it's something I would have done anyway," Plunkett said.
Rafi Nazarians, a representative for Sen. Barbara Boxer, was also there to read a congratulatory letter from Boxer to Plunkett.
"I offer my most sincere thanks for your astute sense, hard work and great bravery. Thank you very much," read the last line.
After the award presentation, Schiff stayed for several minutes and discussed current talks about the future of the Rim of the Valley. There is an ongoing study of the area, which spans the Santa Monica Mountains through Simi Hills, the Santa Susanna, Verdugo and San Gabriel mountains, to see if it should be designated as a part of the national park system.
The website said the National Park Service is in the process of preparing a draft study report and environmental assessment to be released this year. After the findings are released, Schiff said the public is welcome to input its opinions.
"Whatever your views are, I encourage you to share them, because they will take that feedback and ideally incorporate it into their final report and recommendations."
The report will then go to Congress, which will decide what action to take based on those recommendations. Schiff said most previous public comments, of which the NPS has received about 5,000, have been strongly in favor of expanded open space and maintaining the environment, and he suspects the next batch of comments will be similar.


After Schiff spoke, Dr. Richard Sheehan, superintendent of the Glendale Unified School District, made a presentation that included informing the audience of future goals the district has in the area of technology and student development.
Sheehan said a big push is to have students start early in learning a second language, as part of the current Foreign Language Academies of Glendale (FLAG) dual immersion program. Students in the program have the opportunity to choose a language in elementary school, and can follow a specific track up to high school if they continue with that language.
"At the last board meeting, the board approved a K-12 track for all our languages, so if you enroll at a school that has a language, you know the track for middle school and high school," Sheehan said.
The languages offered include Italian, French, German, Spanish, Armenian and Korean. For more information of the FLAG program, visit www.gusd.net.
Sheehan said career technical programs are a big priority for the district. He said auto shop is coming back, and there is a new shop being built at Hoover High School. Sheehan is also pushing for students to work with motorcycles, an industry that has a deficit in workforce. He recently spoke to an employee at a Harley Davidson shop, and that person said the company had to find a technician in Sweden for its position. Sheehan said those jobs should be filled by local job seekers.
"It is a crime that we don't have our own kids [doing that]," he said. He also addressed the possibility of woodshop making a return.
"The problem we are having with woodshop is finding teachers," he said. "Rather than it being woodshop it would be woodworking and cabinetry is how we would try and revamp that."
Sheehan said the recession several years ago hit GUSD hard. In 2022, the district will be fully funded as it was back in the 2007-08 school year. But goals to move forward with new technology remain. For instance, Sheehan likes the idea of teleconferencing classrooms involving different high schools for a lesson plan, which would ostensibly save money on hiring teachers.
"Schools today should not look like when I was in school," he told the audience. "There should be changes."
There was also a question about the school calendar, which over the last two years has seen an earlier start date for classes. Sheehan said the district recently approved a three-year calendar with the current early start date. A benefit to that, he said, is students can have more time to prepare for advanced placement tests. He also likes the idea of the first semester ending before winter break.
"[The students] were getting projects over the breaks, and then having to cram for finals, and that's not educationally sound," he said, while adding the district will study data over the coming years about the new calendar and make necessary adjustments when the time comes.
The next CVTC meeting is scheduled for April 17 at 7 p.m. with guest Assemblyman Mike Gatto. The meetings are held at the La Crescenta Library Community Room, at 2809 Foothill Blvd.