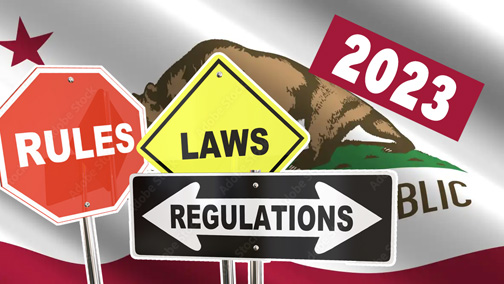 By Lucian KUGLER
In November, tens of millions of Californians voted on propositions and politicians resulting in a new year that saw sweeping changes signed into law year by recently re-elected Gov. Gavin Newsom. Redistricting has gone into effect affecting local representation in Washington DC, especially for those in the Crescenta Valley. While most of La Crescenta and La Cañada were part of California's 28th Congressional District, as of the last election Pennsylvania Avenue now divides the area into Districts 28 and 30. Those in La Crescenta to the east of Pennsylvania Avenue, as well as the people of La Cañada, Pasadena, Altadena, Arcadia and other nearby areas, are now represented by Congresswoman Judy Chu in District 30. Those in the Crescenta Valley to the west of Pennsylvania Avenue, Burbank, Tujunga and Glendale, including far north Glendale, will be represented by Congressman Adam Schiff.
California's new laws include reforms to labor, environment, prison and court, COVID-19 and more. The workers of California will be receiving a new minimum wage of $15.50, and employers are to disclose salary ranges for all job postings. This wage transparency law was created in hopes to ensure that 2023 is the start of a process to reduce pay disparities all across the Golden State's work front. Additional labor changes in California include the creation of a state council to collectively bargain wages and working conditions for the half a million fast food workers in California and legislation to make it easier for the farmworkers of California to unionize. However, these two additional measures are temporarily paused until further notice.
New laws and regulations that are in place to keep our state green and clean include a ban on the installation of new oil wells within 3,200 feet (975 meters) of neighborhoods, schools, hospitals, parks or any frequently used public location. The oil and gas lobby has pushed for a referendum on this ban to pause it until the election next year.
Those serving sentences in California prisons are now able to make free phone calls from prison. This law was passed after activists said that charging prisoners high costs for phone calls unfairly cut them off from their lawyers and loved ones.
Additionally, courts in California cannot use a person's immigration status, documented or undocumented, in any criminal case unless specifically approved by a judge.
As the United States approaches three years of the COVID-19 pandemic workplaces and schools have been mandated to continue to provide their workers and students with exposure notifications until at least 2024. Additionally, new legislation has been put in place to punish COVID-19 disinformation.
Other changes signed into law by Gov. Newsom include the decriminalizing of jaywalking, declaring Armenian Genocide Remembrance Day and Lunar New Year as state holidays, and the ability for families victimized by gun violence to sue gun manufacturers. New restrictions in place as of 2023 include a ban on artistic work, including song lyrics, being used as criminal evidence, banning any food packaging containing the toxic substance perfluoroalkyl (aka PFAS) and banning new furs from being sold in the state.