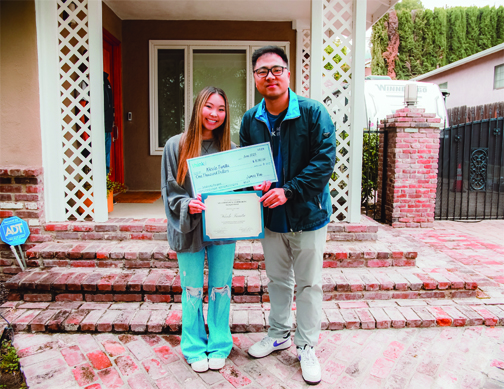 Nicole Tanita is the recipient of the 2023 La Crescenta Community Scholarship. Sponsored by James You, La Crescenta resident and member of the real estate community, and Dave Robles, founder of Think Real Estate, the scholarship provides $1,000 to support a high school senior dedicated to strengthening the community.
Tanita's passion for working with students with special needs and disabilities has led her to make a significant impact on her community. Since middle school, Tanita volunteered at Not Your Average Basketball Camp and played an active role in the Special Olympics Club. In high school, she worked with Club 21, filming and editing self-advocacy videos for students with Down syndrome.
As a longtime member of Girl Scouts, Tanita has taken part in many community service opportunities from singing Christmas carols at senior homes to volunteering at the La Crescenta Relay for Life event.
"Nicole's dedication to inclusiveness, service, and community building is truly inspiring," said You of Think Real Estate Group. "Her work resonates with our values at Think Real Estate, where we strive to build connections and foster relationships. We are honored to support Nicole as she continues her education in business accounting."