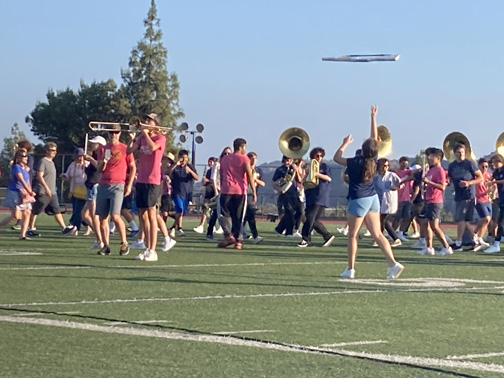 By Mikaela STONE
Crescenta Valley High School's band finished its two week band camp with a show previewing the year's coming performances. Each summer, dedicated students in band and color guard hone their skills from 7a.m. to 3 p.m. in the California heat, working on precision drills so that they can march, twirl and perform as one cohesive group. Band teacher and director Matthew Schick led 96 students, 45 of whom are new to CV band, teaching them to march and memorize segments of songs so that they can establish muscle memory before the start of the school year.
On Friday, Aug. 11, band members showed how far they had come by kicking off their show with a parade. They marched around the Crescenta Valley track as one unit, playing "The Liberty Bell March" – a song recognizable to many parents as commonly played in certain Monty Python sketches.
This year, the theme of the performances will be "It Takes Two," as in "it takes two to tango." As a tango, it will be more dance heavy than previous shows, giving more complicated choreography to the instrument players as well as the drill team. It is Schick's hope that this theme will send out a message of community in an isolating age, where it is easy to "think we have challenges that only affect us and we're alone… [but it takes two] whether it's a romantic pair or a buddy pair." He looks forward to the creativity that will be shown in the coming year as the show progresses during CV's home football games.
These shows will feature songs such as "Libertango" and "Assassin's Tango," led by three student conductors. The choreography shown for this first performance of "Assassin's Tango" featured the instrument players pairing up for a small tango of their own before arranging themselves into parallel lines that quickly diverged as the band marched forward, diagonally, and even backwards at top speeds while facing the audience.
The students then pulled adults from the audience to shadow them as they performed the song a second time, which showcased exactly how fast-paced and difficult the choreography was, even though the students made it look easy.
Drill Team Captain Lucy Bell reported that she in particular is looking forward to this year's theme. While more experienced than most band members with the dance required for "It Takes Two," the color guard did not have it easy, either. The team showed up a week early to practice saber, rifle and flag drills so that they could blend seamlessly into the band's marching.
With these students' passion and the guidance from Schick, finalist of the California best teacher awards who reported he was "humbled" by the appreciation he received, the 2023-24 school year is shaping up to be exciting for lovers of the arts. The band's first performance will be held on Sept. 1 during the CV football team's game against West Covina High School.