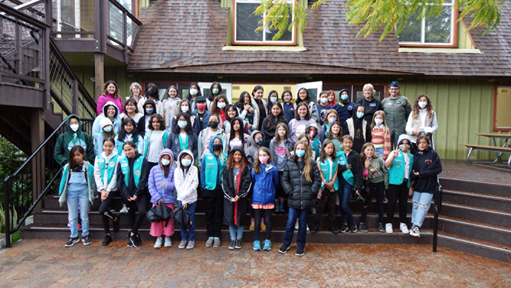 To facilitate Girl Scouts earning their Space Exploration badge, Major Catherine Collom, director of Aerospace Education for the California Wing of Civil Air Patrol (CAP), contacted Anna Marie Leidelmeijer, STEAM Program specialist of Los Angeles Girl Scouts, to share information with the girls on their Space Exploration and Movie Night at the Montrose Girl Scout Outdoor Program Center.
"When I began flight instruction, I was the only female student in my class," shared Maj. Collom. "I really had fallen in love with flying and was learning how to fly before I had obtained my driver's license and obtained my private pilot's license at age 17. Eventually I became a certified flight instructor and it is a joy to share my aviation passion and teach new students to fly."
CAP colleague and California Wing Assistant Director of Human Space Exploration Lt. Col. D'Ann Chester – a pilot and astronaut – accompanied Maj. Collom.
"Since I was 5 years old, I had a dream of becoming an astronaut. NASA and space exploration was so much of what I was enthralled with, and I started collecting information and learning about NASA, eventually meeting and working with many astronauts, viewing Space Shuttle launches and landings, and am currently a Solar System ambassador for NASA," said Chester. "I began flying lessons at a young age and have accumulated well over 1,200 hours as a private pilot. I am scheduled to fly in space with Virgin Galactic soon."
Civil Air Patrol cadet programs are for young people from ages 12 to 18 and are STEAM oriented. Cadets can take advantage of flight training and have the possibility to enter the Air Force Academy as an Airman 1st Class. Several astronauts were CAP cadets in their youth. Many cadets go on to become a commercial pilot for an aviation career. CAP cadet programs were presented to the Scouts and their parents and including information on how the young Scouts could attend both programs.
Visit www.CAP.News or www.GoCivilAirPatrol.com for more information.