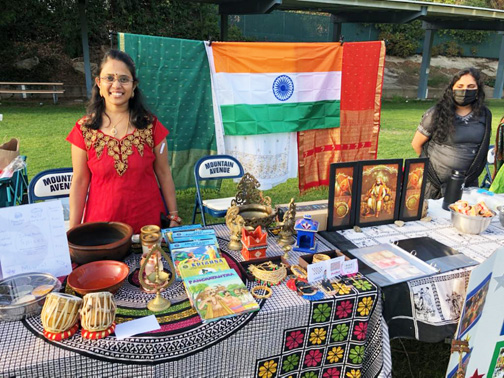 By Lori BODNAR
Mountain Avenue Elementary School hosted its first in-person event on April 28 since the pandemic. Culture Night celebrated places and people from around the world. Students and their families volunteered to share information about a culture through song, dance, activities, traditions, food, items and informational posters at their outdoor booths.
Mountain Avenue Principal Jaclyn Scott said, "This was our first in-person event so it brought our community together after the pandemic. Culture Night has become a tradition here and it celebrates different cultures."
The PTA chair and primary organizer of the event, Jennifer Peñez, said, "Culture Night brings the school community together and gives us the opportunity to learn about our neighbors. I was excited to see Mountain Avenue families get together and finally being able to see them in person. I am thankful for Ms. Scott and our PTA for allowing me to put this together. I initially started this event back in 2019 and it was our last event we held before the pandemic. Three years later, the event was again a success!"
Over 25 students created booths for Culture Night and there were 12 cultures represented, including the Philippines, Mexico, Croatia, Korea, Pima Nation, Armenia, El Salvador, France, Ireland, Sweden, Nicaragua and India. The families who represented India and Armenia also had dance performances.
The Pima Nation, a group of Native Americans living in what is now Northern Mexico and Arizona, was detailed by fifth grader Bianca Serratos and her family.
"I chose the Pima for Culture Night because this is one of my cultures that not a lot of people know about and it is important to me," Bianca said. "We are known as the River People because we live near rivers."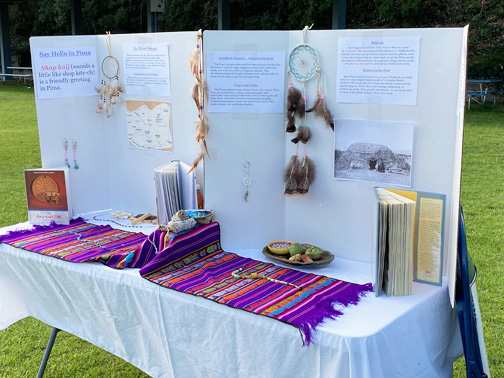 She added that at Culture Night it is fun learning about the other cultures.
Ireland was represented by a group booth of three students and their families.
"We chose Ireland for Culture Night because we are all Irish," explained fifth-grader Freya McCoy. "We served Irish candy and drinks, such as mini rolls, Clubmilk [chocolate bars with milk chocolate] and Bubbly, which is close to the traditional lemon mint water. We played music and did a jig when someone asked. I have enjoyed tasting all the food and learning about the cultures in the community."
The Philippines was also represented by a group of students and their families.
"We did the booth as a group with the families of Amelia Lapeña, Helen Olivares, and Jennie Ludan," Jennifer Peñez said. "We served snacks, desserts, crackers and packets of instant coffee. We had a few songs that played on the speaker."
Patrons to the booth enjoyed the food and were fascinated to learn how many islands are part of the Philippines ­– an astounding 7,640!
Lapenã said, "I helped with the Philippines booth, which was organized by several Filipino families. We displayed books, games, and trinkets. We showed the flag and the map. We shared many Filipino treats, such as mini pandan cakes, ube crackers, and dried mango bites. My son, Zachary Yang, even created trays displaying popular Filipino foods."
Additional countries represented included India, Nicaragua and Mexico, which was represented by Eddie Robles.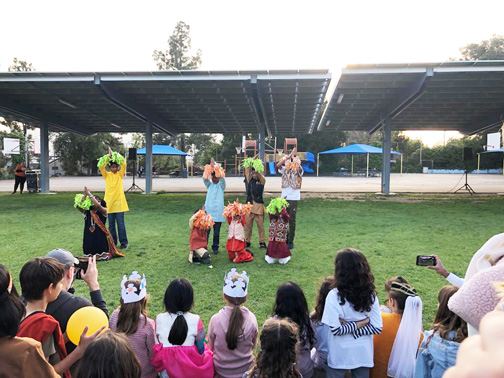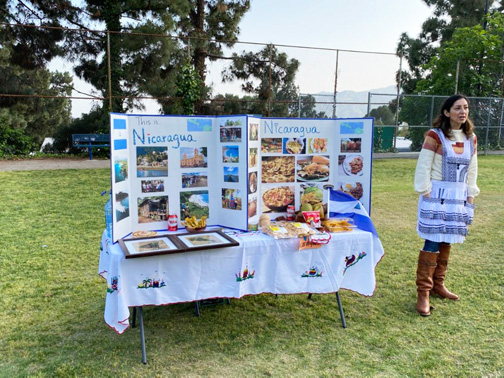 "My parents are from Mexico and our kids are bicultural," Robles said. "We wanted to represent our culture, and the Philippines was already taken, so we shared about Mexico. We are serving spicy and sweet candy."
Glyssa Robles said, "The spicy and sweet candy is similar to fruit with chili powder that you can get from the fruit vendors. I love seeing everyone get excited talking about their cultures and food. It helps everyone learn more about their heritage and others."
Several families worked together to present a booth about Korea.
Michelle Lee said, "We are representing our culture because our family is from Korea. They immigrated here and we were born here, but we still want to represent the culture we are from. We are serving honey cookies, chico pie, a rice drink, rice crackers and sugar lollipops." Several students wore traditional Korean clothing, and there was also a traditional Korean game called yut to play.
The families of Shake Ovasapyan and Talin Badalian represented Armenia.
"We picked Armenia because we are Armenian and wanted to celebrate our culture," said Ovasapyan. "We are serving an Armenian chocolate snack. We are excited to continue Culture Night in the future years and hopefully [will] serve kabobs."
Talin Badalian added, "We wanted to teach people about culture and history of Armenia. I enjoyed learning about other cultures, seeing other families, and trying the traditional foods."
Families enjoyed the French crepes distributed at the booth about France, as well as learning more about the country and seeing pictures of the iconic Eiffel Tower.
Fifth-grader Suzie Bodnar made a poster and had pushbuttons to hear Swedish greetings at her Sweden booth. She served Swedish fish and Svenhard pastry buns.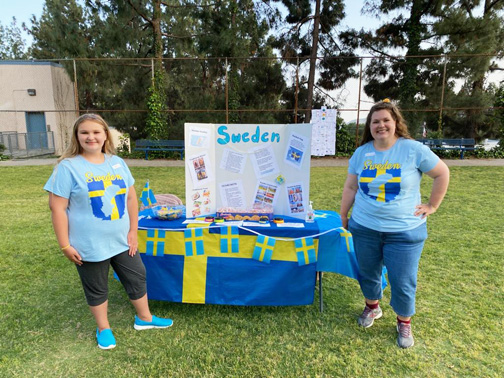 Suzie said, "I chose Sweden since my great-great-great grandmother, Sophie Bergman, came to America from Sweden."
In addition to each of the booths, fifth grade teacher Christina Haydt displayed essays with pictures her class had written about different cultures or countries important to them.
For the safety of everyone attending the outdoor event, all food was store-bought and individually packaged, and all participants were temperature-checked. The school community enjoyed the annual event and as a group looked forward to future Culture Nights.