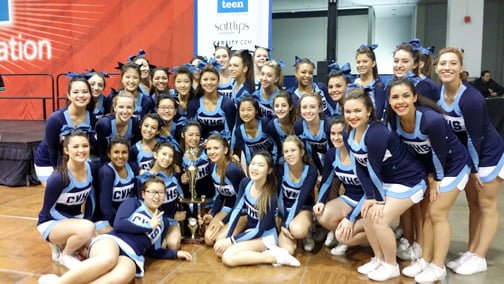 By YooJin SHEEN, intern
Throughout the school year, the Crescenta Valley High School Cheer team participates in a variety of events including parades and football games. This season, in particular, the junior varsity team took the initiative to challenge themselves even further by taking part in the annual USA (United Spirit Association) Nationals Spirit Competition at the Anaheim Convention Center on March 30.
The 2014 USA Spirit Nationals, which highlights various talents through competitions in cheerleading, songleading/pom, pep flags, and mascots, was established in 1950 and has been awarding cheerleaders who demonstrate exceptional talent.
"It definitely takes a lot of time and energy to attend a national event," Jessie La Bohn-Moorehead, the head coach of CVHS Pep Squad, said.
The event was the first time the CV group performed against teams at an advanced national level.
"This was their first experience in a large competition, and they were competing against other very talented groups," La Bohn-Moorehead added.
Despite it being their first time at such an advanced level, the JV team placed fourth at the USA Nationals and the CVHS mascots placed second. Flags did not drop anything, and the overall coordination of the group was impressive.
In addition to California, competing teams were from Arizona, Colorado, Indiana, Nevada, New Mexico, Oregon, Utah and Washington.
Sportsmanship and teamwork were key factors in the success of the team.
"The nationals competition was surely a positive experience, and I could see the team support each other," said La Bohn-Moorehead, adding "I'm incredibly proud, excited, and positive that CV's team will continue to do well."
For the remainder of the CV Cheer season, a few subgroups will be performing at various events outside the campus.