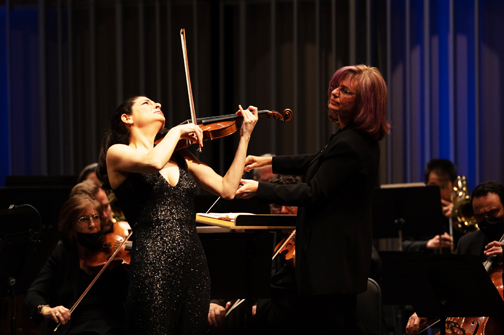 By Bethany BROWN
The Los Angeles Jewish Symphony played the Violins of Hope on Sunday, Dec. 12 at The Soraya in Northridge after the concert was postponed for nearly two years due to the COVID-19 pandemic.
The private collection of string instruments remained in safekeeping as it awaited its return to the stage and includes more than 50 rescued and restored violins, violas and cellos that were played by Jewish musicians during the Holocaust. These instruments have survived concentration camps and many long journeys to tell remarkable stories of injustice, suffering, resilience and survival. By playing the instruments today, the intent is to educate the public and memorialize the many lives that were lost as well as those who survived the atrocities inflicted upon the Jewish community.
LAJS founder and conductor Dr. Noreen Green said the experience was incredibly moving.
"It was electric in the room; the energy was palpable between the orchestra and the audience," Green said. "As a conductor I sort of feel like the conduit between the two and it was just electrifying – I don't know how else to put it."
Green emphasized that she felt the concert was perfectly set up in a way that it reflected the resilience of the Jewish community during what many consider was mankind's darkest hour. The first half of the concert prior to intermission was serious and somber and told the heartbreaking stories of the Holocaust, while the second half following intermission was full of celebration. The orchestra returned to stage in colorful costumes with sequins and scarves and played more uplifting and hopeful melodies.
"It was a complete celebration of the fact that we are still here, we survived and ultimately we won," Green said. "It was emotional on many levels, and I do think everybody felt it in the room. We were all there together experiencing the emotions – from tears to joy."
Violinist Lindsay Deutsch echoed Green and said her experience playing an instrument of the collection was an emotional one. Deutsch was one of two featured soloists performing in the concert along with Barry Gold on cello. Former LACO conductor Jeffrey Kahane referred to Deutsch as "one of the most interesting, imaginative, and downright thrilling young violinists in America."
"It really looked for a long time like it wasn't going to happen," Deutsch said. "I am so grateful that it finally did and that I was given the opportunity to tell this story – it really is a career highlight that I will never forget because it was so powerful. And I mean I knew that it would be powerful but there was something about being there with 1,000 people and being on stage with so many of these instruments that just hit me really hard in the moment."
Deutsch recalled feeling overwhelmed with emotion when performing John Williams' "Schindler's List Suite."
"It's just difficult emotionally to get through in a normal setting but in this setting especially – playing on a violin that was there, that literally saw the worst of humanity and survived it," Deutsch said. "Again, it was almost difficult to get through for me as a performer."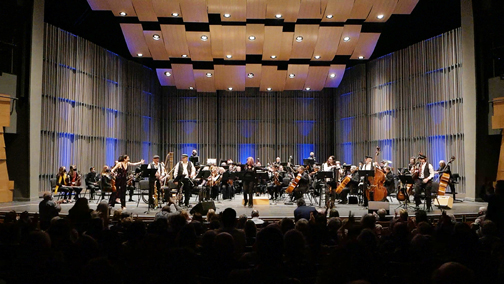 Deutsch began playing the violin at 5 years old and focused strictly on classical music throughout her childhood and adolescent years. During her studies at the Colburn School after moving to Los Angeles, she realized she enjoyed branching out of the classical genre and crossing over to pop music. She later formed her genre-defying trio, TAKE3. The group brings the refinement of a rigorous classical music background and infuses it with rock-star charisma.
She said returning on stage to perform the classical music she grew up playing and was trained to play felt good.
"I felt like I was home again," Deutsch said. "It was really such an important, impactful experience for me and I hope those who attended the concert took away what they needed to take away from the experience, too. It was an absolute privilege to tell these intimate stories of the Jewish experience with these beautiful instruments."