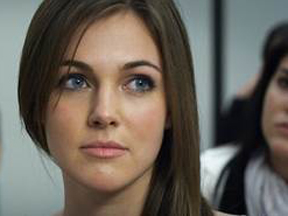 Evanne Friedmann of La Cañada Flintridge and Tournament of Roses' Rose Queen in 2010 will be featured on the big screen in the acclaimed coming-of-age high school thriller "As Night Comes."
The film debuts on Friday, Nov. 14 in a week-long Los Angeles theatrical release at Laemmle's Music Hall in Beverly Hills.
"As Night Comes" follows troubled new kid Sean Holloway who falls in with a group of teenage outcasts called The Misfits under the wing of its charismatic leader Ricky. On the eve of Halloween, Ricky's anarchist plan for revenge spirals out of control, culminating in brutal violence, and ultimately Sean's fight for survival and freedom.
Friedmann stars as Sarah, the good girl love interest of a struggling Sean, who tries to guide him in a positive direction.
"As Night Comes," described by director Richard Zelniker as "a dark, gritty look into the turbulent underworld of high school rebellion" also stars Luke Baines ("The Ever After"), Myko Oliver ("Castle"), Stacia Hitt ("Neighbors") and Jesse Kove ("Bunyan) among others.
Following its theatrical run, "As Night Comes" will be available via VOD on Dec. 5.