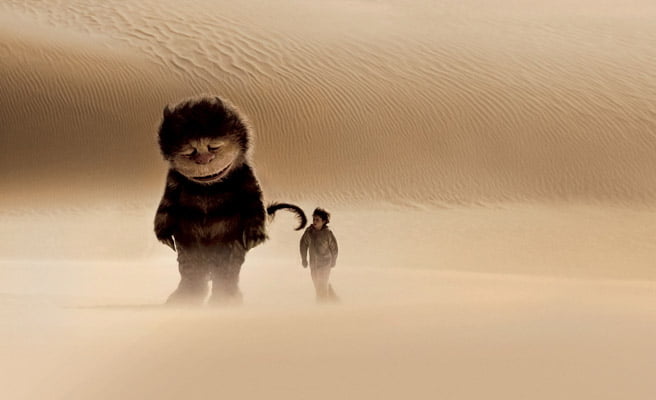 By Susan James
Fantasies are like soufflés. They require a light touch to reach perfection.  Spike Jonze's new film, "Where The Wild Things Are" takes the magical, minimal children's classic by Maurice Sendak and turns it into a self-obsessed study of a group of melancholy misfits in critter costumes. Tapping their child within, Jonze and Dave Eggers' screenplay shows 9-year-old wild thing Max as a lonely, unhappy boy whose need for attention plays out in acts of aggression. Lots of aggression. When his divorced mother, a strong Catherine Keener, invites a date to dinner, Max throws a tantrum and runs away. Just as in his daydreams, he finds a boat and sets sail for the land where the wild things are.
In Sendak's published illustrations, the wild things with their great heads and sharpened claws were wonderful, strange and frightening. Jonze has kept the look but given them voices. What comes out is a constant whine of threat, complaint and insecurity.
Max meets his monster alter-ego Carol, voiced by James Gandolfini, who is dealing with a broken romance and a profound sense of unhappiness. Carol also has unresolved anger issues just like his new human best friend. When the monsters make Max their king, his efforts to liven up this group of sad sacks by building a fort and initiating dirt fights leave them all more depressed than ever.
Jonze and Eggers have intended to write a story about a boy like Harry Potter or Luke Skywalker, one who feels insignificant and helpless but through the magical fortunes of fantasy finds empowerment and purpose. Only the road to discovery for Max runs through a clutch of monsters too firmly rooted in the problems of the human world from which he fled to create an atmosphere of wonder.
What the king of the wild things discovers is that like adults, even
monsters don't have all the answers.
See you at the movies!