By Robin GOLDSWORTHY
Parents and children filled the seats at the Laughing Loudly for Literacy on Monday evening at the MacDonald Auditorium at Crescenta Valley High School. Hosted by Once Upon A time bookstore, the event hosted four children's book authors and illustrators who shared their secrets on how they came up with the crazy characters that populate their books.
Author Mac Barnett read his book, "Billy Twitters and His Blue Whale Problem," keeping the audience members chuckling as Barnett detailed the challenges a child has in keeping and maintaining a big blue whale. On the stage was a big screen that showed the pages from the book as Barnett read.
Former elementary school teacher Jon Scieszka is the current National Ambassador for Young People's Literature and author of the popular "The Stinky Cheese Man." He took the stage with fellow author and illustrator Adam Rex. Rex wrote "Frankenstein Makes a Sandwich," a book with which many in the audience was familiar, but with Scieszka at his side, Rex took suggestions from the crowd to create a "gimunkasaurus" – a giraffe/pink chipmunk/dinosaur hybrid. The exercise was an example of how illustrators construct their characters on which books are based.
In addition to his acclaimed work, Scieszka founded Guys Read, an organization to help reluctant boy readers "find the magic in reading." "Robot Zot!" is his latest book and a figure from the pages shared the stage with Scieszka.
Dave Shannon is an award winning author who received the Caldecott Honor for his book, "No David," which he claims is partly autobiographical. He also collaborated with Scieszka on "Robot Zot!" On Monday evening, he shared pictures from his youth, including some creative Halloween costumes, and talked a little about the creation of the enemy of Zot.
With marker in hand, he drew the enemy of Zot. The being was similar to a television with extended antenna, with a Barbie body, fork-and-spoon arms and hill billy and vampire teeth oozing green slime. Disgusting for sure, but the younger audience members were fascinated and delighted.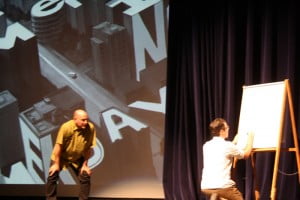 Not just entertaining, the authors also took time to inspire the audience to "never stop trying and to keep practicing everything."
After the book readings and artist demonstrations, the four took seats at the foot of the stage to meet with audience members and to sign copies of their latest books.
Aimee Yeghiayan contributed to this story