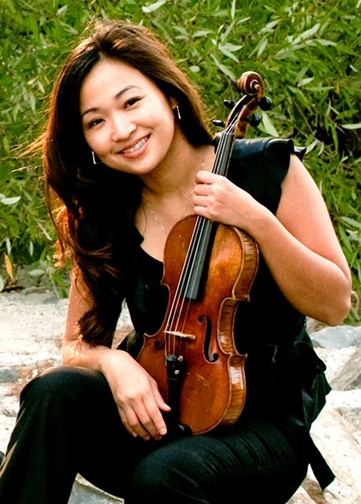 The Free Admission Glendale Noon Concerts series has returned to live performance in the sanctuary of Glendale City Church, 610 E. California Ave. in Glendale.
On Sep. 20, the Glendale Noon Concerts will feature violinist Ellen Jung and pianist Jenny Jee-El Park performing duo sonatas by Ludwig van Beethoven and Gabriel Faure.
Born in Toronto, violinist Ellen Jung has performed frequently as soloist, chamber and orchestral musician on six continents. She earned a degree in Bachelor of Music in performance from University of Toronto, and a Master of Music degree and artist diploma from Yale University.
As a member of the award-winning Jung Trio, she has performed recitals and concerto engagements internationally, and recorded Dvorak's "Trio in F minor, Op. 65" for Groove Note records, released on LP and SACD. They participated in many renowned music festivals, and collaborated with numerous prominent musicians including members of the Tokyo String Quartet, St. Lawrence String Quartet, Claude Frank, Peter Frankl and Paul Katz.
A frequent performer of new music, Jung has performed a number of world premiere chamber works over the years, and had a solo violin piece "A" written for her by Canadian composer Lusiana Lukman.
Currently, she is living in Los Angeles, recording and performing live concerts as a freelance musician.
Active in Southern California as soloist, chamber musician, educator, producer and arranger, Jenny Jee-El Park received her B.M. in piano performance from Manhattan School of Music and M.A. in music education from Teachers College of Columbia University. Since her first public recital at age 15 in Italy, Park made her Carnegie Hall debut in 1998 as the Winner of Artists International Special Presentation Award, followed by numerous concerts in Europe, Asia and throughout North America. In addition, her compositional work "Lift High the Cross" was published in 2017 under the Jubal House imprint and distributed through the Fred Bock Music Company/Hal Leonard companies. She had served her city of residence as the commissioner of Culture and Fine Arts, served at the Orange County Children's Therapeutic Arts Center as music curriculum consultant, and operated a volunteer-based music program for the homeless children at the Orange County Rescue Mission. A dedicated music educator, she is currently working with RYTMO (Reaching Youth Through Music Opportunities) and Berklee City Music Network to develop a cost-effective music curriculum for students here and abroad.
Formerly a faculty member of the United Nations International School, Concordia Conservatory, Bethesda University, Vanguard University, and Immanuel Bible College, she is now artist-in-residence at the Wilberforce International Institute and the director of a newly established nonprofit organization called Music Across Borders. Her most recent set of original compositions called "24 Preludes for Children" will become available, both the score and recording.
For more information on Glendale Noon Concerts, email treas.gsda610@gmail.com or call (818) 244-7241.
http://glendalenoonconcerts.blogspot.com