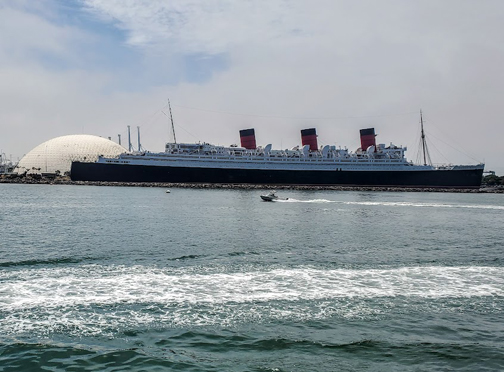 By Greg ARAGON
It was a memorable and educational day in Long Beach. Our getaway began at Shoreline Village, a waterfront shopping/dining/ recreation hub located in Long Beach's gorgeous Rainbow Harbor. Here we booked a 45-minute harbor cruise (adults $20 and children $10) with Harbor Breeze Cruises (www.2seewhales.com).
The harbor tour was highlighted by a cruise past the world-famous Queen Mary ship. Launched in 1936 in Southampton, England, the ship was the largest and most luxurious ocean liner ever built and set a new standard in transatlantic travel. It was a magnet for the rich and famous.
During her time at sea, the Queen Mary also carried WWII troops and had a bounty put on her by Nazi Germany. After WWII, the ship was retrofitted and put back into civilian service until its last voyage in October 1967, which led her to her final docking station in Long Beach, where she has been since.
Next to the Queen Mary, we saw the world's largest, free-span aluminum geodesic structure. The giant white dome is 115 feet high and 400 feet wide and was designed and built to house Howard Hughes's giant flying boat, the Spruce Goose.
Continuing our cruise, we passed the THUMS Islands, a group of four artificial islands off the coast of Long Beach that were built in 1965 to tap into the East Wilmington Oil Field. Looking more like resorts or theme parks than oil facilities, the tiny islands were named THUMS after the companies that created them: Texaco, Humble, Unocal, Mobil and Shell.
Other harbor cruise highlights included seeing dolphins and seals, the beautiful Long Beach skyline, Rainbow Harbor's myriad yachts and fishing boats, and the city's rock jetty which, at more than eight miles long, is the world's longest man-made breakwater.
After 45 minutes on the water, we wanted to explore beneath the waves. So when the boat docked, we walked a couple of hundred yards to the world-famous Aquarium of the Pacific (www.aquariumofpacific.org) for another ocean adventure.
Showcasing more than 12,500 animals, the Aquarium of the Pacific is built to highlight three areas of the Pacific Ocean, the planet's largest and most diverse body of water. The aquarium's galleries represent the sunny Southern California and Baja region; the frigid waters of the North Pacific; and the colorful reefs and lagoons of the Tropical Pacific. Sprinkled around these main areas are numerous other fun and informative exhibits, including Shark Lagoon and Lorikeet Forest.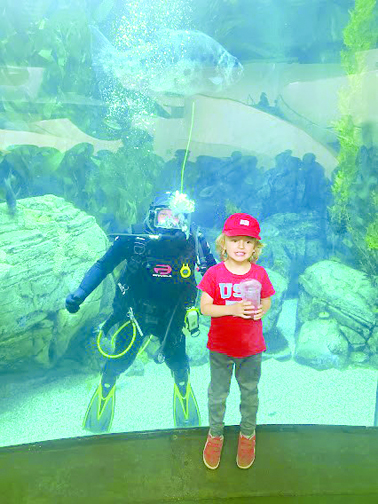 The first thing we saw when we entered the aquarium was a humongous, life-sized model of a blue whale hanging from the ceiling. Below this our eyes were drawn to the nearly three-story tall Honda Blue Cavern. This giant aquarium within the aquarium features giant sea bass swimming through kelp forests. At lunch time scuba divers enter the water to feed the fish and give educational ocean lessons to the kids. At the end they even pose for pictures with the little ones.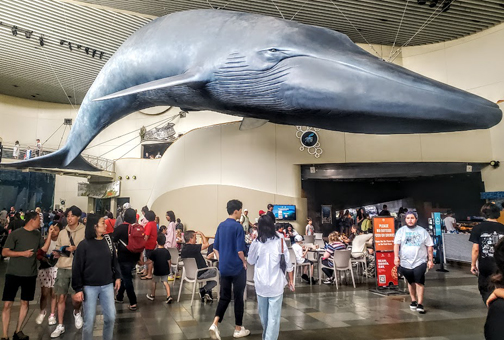 One of my favorite outdoor exhibits is Shark Lagoon, which features several species and sizes of sharks along with large rays. A highlight here is that visitors can get up-close and even touchy-feely with some sharks and rays. Bamboo and epaulette sharks glide around the three shallow touch pools where guests can reach in and touch these gentle and graceful animals.
Other sharks are visible through a viewing window and guests can come nose-to-nose with zebra and gray reef sharks. Daily presentations and feedings in Shark Lagoon showcase the power and beauty of these remarkable predators. Various interactive displays highlight sharks' senses, sizes, teeth and reproduction, as well as their importance in the ocean's food chain.
Near Shark Lagoon is Lorikeet Forest aviary, a 5,400-square-foot outdoor aviary that takes visitors to the coastal lowlands of Australia where dozens of lively lorikeets fill the trees. Here people can purchase a small cup of nectar, the lorikeets' favorite food, and feed the birds while walking through the exhibit. The 10-inch birds will land on your hand, arm, shoulder or even your head to get a sip of sweet nectar.
In the Southern California Gallery there are over 10 exhibits and more than three dozen species to be found. Highlights include the California two-spot octopus, leopard and horn sharks, California scorpionfish, a moray eel, California spiny lobsters, Catalina goby and California's state marine fish – the garibaldi. Visitors can get up close to these animals as they explore things such as underwater habitats off Catalina and on oil rigs, which serve as artificial reefs located between the mainland near the Aquarium and Catalina Island.
Another highlight in the Southern California/Baja Gallery is the 211,000-gallon Seals and Sea Lions Habitat, which is home to harbor seals and California sea lions. Shows are held twice daily when visitors can learn more about the animals and observe as they respond to trainer's cues. Visitors can also schedule an animal encounter with a sea lion and participate in a feeding and training session.
The Gulf of California exhibit features some of the variety of one of the most biologically productive and diverse seas in the world. It includes unique species of butterflyfishes and large silvery fish called Mexican lookdowns. Other things to see include California spiny lobsters and beautiful jellyfish.
The Northern Pacific Gallery represents the 800,000 square miles between Alaska, Siberia, the Bering Strait and the Aleutian Islands and Bering Sea. The Bering Sea is home to over 450 species of fish and invertebrates, 50 bird species and 25 species of marine mammals.
This gallery features 16 exciting exhibits including several species of sea jellies, sea otters and the elusive giant Pacific octopus. The largest species of octopus in the world, these intelligent and mysterious creatures grow to over 20 feet and can weigh more than 100 pounds. Puffins and diving birds are also found in the area
In the Aquarium's new Pacific Visions wing, visitors can experience a state-of-the-art immersive theater, an art gallery and a culmination gallery with interactives, game tables and live animal exhibits.
The Aquarium of the Pacific is located at 100 Aquarium Way in Long Beach. For more information call (562) 590-3109 or visit www.aquariumofpacific.org.