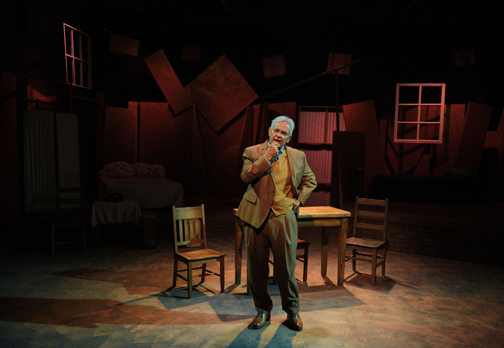 Casa 0101 presents a beautiful opening night performance of Arthur Miller's, "Death of a Salesman."
By Lynn SHER
Arthur Miller's Pulitzer Prize-winning play "Death of a Salesman" opened on Friday, June 16 at Casa 0101 Theater in Boyle Heights.
This production is special for many reasons, the first being that the cast is almost entirely Latino. Classics like "Death of a Salesman" have historically been predominantly cast with White actors and it's always refreshing and so right to see these roles made available to other ethnicities. These types of plays go so deep into the human experience that nationality and ethnicity are ultimately peripheral.
"Death of a Salesman" is a tragedy, set in 1940s Brooklyn, New York and focuses on the psychological and mental decline of Willy Loman, the play's leading character. Throughout the play he comes to terms with the fact that, despite his decades of commitment to his craft of salesmanship, success has eluded him. Even worse, his children, who once held great promise, are floundering as they grow older, choosing roads that lead nowhere. As the truth of this reality becomes too painful to accept, he drifts in and out of excruciating memories that reverberate with regret. Emmanuel Deleage, the show's producer and executive director of Casa 0101 Theater, eloquently boils down the play's essence.
"['Death of a Salesman'] explores the quintessential battle taking place in one way or another inside the heads of each one of us: the pursuit of success, the difficulty of accepting reality, the love of family [and] the struggle to force the hand of destiny," Deleage said.
The company of actors is phenomenal and brilliantly cast. Vance Valencia gives a virtuoso performance as Willy Loman that deserves packed houses every night. He slips in and out of Willy's psychoses with undeniable elegance. Every word he utters drips with the reality of the moment he's in.
Christine Avila plays Willy Loman's wife Linda Loman, and their sons, Biff and Happy, are played by Eddie Diaz and Adam Hollick, respectively.
Even the actors playing smaller roles gave powerhouse performances. Gor Leo Babakhanyan who plays the quintessential old-school New York City waiter Stanley, and Jeff Blumberg who plays Willy's boss Harold Wagner, gave standout performances. Leah Verrill's interpretation of "The Woman" is sexy, captivating and even funny, though in the end she is the catalyst for Willy's undoing.
Corky Dominguez directed the play, his 40 years of experience in the theater apparent throughout the production. His creative staging and interpretation of the characters in the flashback/delusion scenes added to the pacing of the play, which was just about perfect. The energy only dipped for me at the very end but I think as the players relax more into their work that little wrinkle will iron itself out.
The talent and technical abilities of technical director and sound designer Max Brother, lighting designer Kevin E. Vasquez, set designer Marco De Leon, and costume designer Abel Alvarado played a huge part in bringing this monster of a play to light. The set was part abstract and part realistic, perfectly mirroring the world of Willy Loman. Each character's costume exquisitely represented the time period. Both light and sound were used in profound ways, ultimately rounding out all of the moving parts that make for an incredible theatrical experience.
Casa 0101 as a theater company does wonderful work, keeping theater alive and making the art form accessible to its Boyle Heights community. But this production of "Death of a Salesman" does more than that. It brings the magic of the theater to Boyle Heights … a magic that's achieved when all the different, essential parts move together, in time, with inspiration.
The show will run through July 16 with performances Friday and Saturday at 8 p.m. and Sunday at 3 p.m. Tickets are $30 for general admission and $25 for residents of Boyle Heights.
This show is recommended for all audiences. Advance reservations are highly recommended. For tickets, call the CASA 0101 Theater Box Office at (323) 263-7684, email tickets@casa0101.org, or buy online at www.casa0101.org.