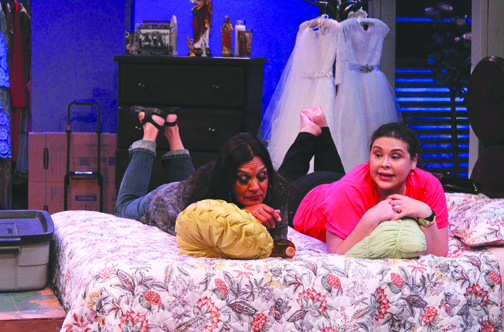 By Lynn SHER
The world premier production of "Favorite Cousins" is finishing a successful run this week at CASA 0101 Theater in Boyle Heights. The final three performances are May 19, 20 and 21: Friday and Saturday at 8 p.m. and Sunday at 3 p.m. There will be a special guest speaker after the Sunday show. "Favorite Cousins" is the inaugural production to present in the newly dedicated Gloria Molina Auditorium.
Playwright Lindsey Haley initially created "Favorite Cousins" in 2010 as a 30-minute play through a commission from Girl Planet at TeAda Productions. In March 2013 it was included in the Short Play Festival, "Chicanas, Cholas y Chisme," created by Josefina Lopez ("Real Women Have Curves") at CASA 0101. This current production is a full length, two-act play.
"Favorite Cousins" is a modern-day drama in which two cousins, estranged and seemingly opposite in disposition, are forced to come together despite themselves to pack up the house of their recently deceased grandmother. They are each suffering from the loss of their sons, one who lost his life to gang violence and the other who is serving a life sentence for the same reason.
Vanessa Arias-Herrera and Raquel Salinas play the cousins Frances and Gloria. They spend the first part of the play bumping heads and annoying each another. Each condemns the other for the choices they've made and how they've handled their individual hardships. Circumstances unfold as the women are inevitably shown they have more in common than they'd like to admit and that ultimately they need each other.
The play also shines a spotlight on glaring issues like gentrification that is pricing out Chicano families from their homes and neighborhoods, and the for-profit prison system. Haley explained she wanted to "expose the cottage industry that relies on the incarceration of Brown and Black people."
Memories unfold often in real time in the play that causes the drama to drag, and it wrapped up a little too neatly for me at the end, but the story was poignant all the same and the characters were fun at times, though I would have liked to see more organic connection between the two leading ladies.
Highlights from the production were the set designed by Marco De Leon and Prop Master Doreen Sanchez. The stage was used to its full capacity so that the audience really felt like a fly on the wall in the bedroom of this history filled Santa Monican home. Actress Tina D' Marco truly shined as Comadre Josephine, filling the role with delectable life and charm.
Ultimately, "Favorite Cousins" gives life to the realities of the Chicano experience in Los Angeles, celebrating the culture and bringing awareness to the hardships that often go hand-in-hand.