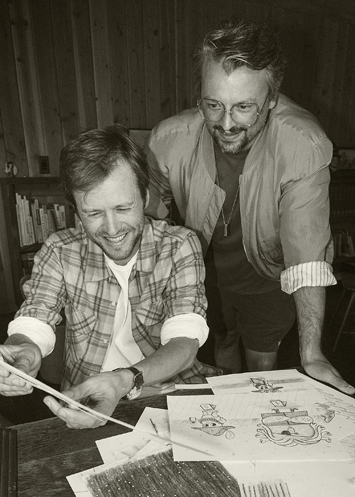 By Robin GOLDSWORTHY
The pandemic resulted in changes throughout the country – but not all were negative. Take for example the "book club show" that kids' author Mac Barnett launched in March 2020. The Instagram-based, story time variety show held at noon captured the attention of the younger set who watched Barnett, and later his cohort Shawn Harris among others, as they read stories and drew cartoons for viewers.
The subject of one of these cartoons has actually evolved into a life of its own. A graphic novel (of sorts), "The First Cat in Space Ate Pizza," is a story about a cat that is sent to the moon to capture villainous rats that were eating the celestial body.
Barnett and Harris, the creators of "The First Cat in Space Ate Pizza," will be at Once Upon A Time bookstore, 2201 Honolulu Ave. in Montrose, on Wednesday, May 11 at 7 p.m.
"Mac has a humongous following," said Maureen Palacios, owner of Once Upon A Time, who is excited to welcome fans of the pair to the store. She said that Barnett has been to Once Upon A Time several times in the past, but this will be the first time Harris will be visiting the nation's oldest children's bookstore.
Barnett and Harris have been friends almost since crib days, even attending the same schools, and both are Caldecott Medal-awarded artists – Barnett as author and Harris as illustrator. Palacios said having the pair together at the store is unusual.
"[Mac's] a nice guy – very funny," said Palacios. "We're so excited to have them both."
Palacios added her hope for kids who attend the reading and signing on May 11 is that they will be excited about reading the book.
"I want kids to read it … that's the whole point," Palacios said adding that with its bright colors, "anybody with half a heart will enjoy 'The First Cat in Space Ate Pizza.'"
With some schools already knee-deep in testing, Palacios encourages students to "take a break from testing and laugh a little bit."
The next day, on Thursday, May 12 at 7 p.m., Once Upon A Time welcomes to the store YA author E. Lockhart. Lockhart's newest release is "Family of Liars;" she'll share excerpts from her book as well as information about her writing and answer audience questions.
Then, on May 22 at 2 p.m., the community is invited to learn more about Rockhaven, Once Upon A Time and the Montrose Search and Rescue team – just some of the businesses and organizations featured in Mimi Slawoff's book "Oldest Los Angeles." Slawoff will share with the audience at Once Upon A Time some of the amazing discoveries from her book.
For more information on upcoming events, visit www.shoponceuponatime.com.