By Ruth SOWBY
Members of Kiwanis Club of La Cañada pulled out all the stops to celebrate its 75th birthday on Aug. 27. State Senator Anthony Portantino did the honors as emcee extraordinaire. He has served as a Kiwanian for 25 years and, as such, holds the distinction of Kiwanis Legion of Honor Awardee.
Glendale's Oakmont Country Club was the sparkling setting for some 275 members and guests. The dress was formal and jeweled, following the night's sparkle theme. Senator Portantino presided over the awarding of resolutions and proclamations to the Club including giving his own California Senate Resolution to Kiwanis President Trish McRae. U.S. Representative Judy Chu also presented a Certificate of Congressional Commendation to McRae.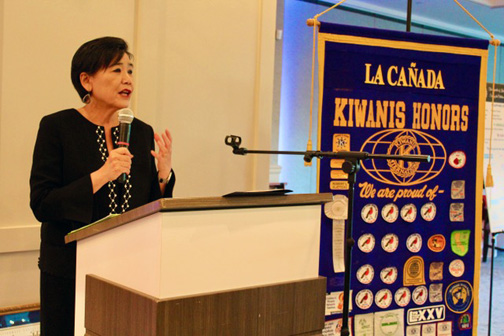 "We've been super excited to get together to mark this milestone in our Kiwanis history," said McRae. "[Kiwanis] is the best kept secret in town."
The program continued with the recognition of Kiwanis Legion of Honor and Legion of Merit awardees and the installation of Payton Parker as the new Kiwanis president. The evening ended with dancing to the sounds provided by Mr. D.J.
Proceeds from the $125 per plate dinner, silent auction and opportunity drawings will support youth leadership and community programs.