By Charly SHELTON
This is going to sound weird, but there is a small sect of the theme park community that is super into collecting things that the parks lend to guests. These things aren't to keep, but just to use and return – for example, the 3D glasses from shows and rides, bits and pieces from ride vehicles that are in reach of prying hands to break off and, most notably, themed cups and plates from restaurants. Many guests want these plates and flatware beyond all reason, even going as far as stealing them from the parks to sell on eBay. This leads to the restaurant losing enough of the custom-made plates so as to either not have enough in stock or to keep them away from guests due to concerns of theft. We all lose out on the experience because of a few greedy guests.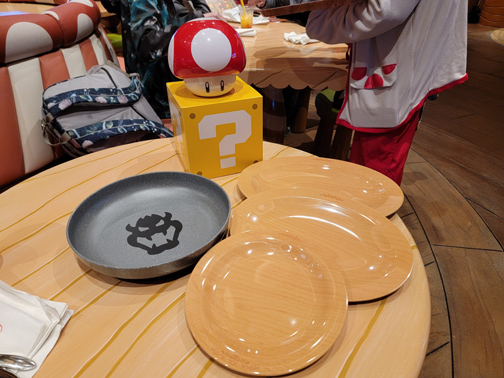 There are numerous examples of this happening at theme parks around the world – the giant spoon bowl at Pym Test Kitchen in Disney California Adventure, the space spork at Docking Bay 7 in Disneyland, and the Bowser bowl at Super Nintendo World in Universal Studios Hollywood, just to name a few nearby.
Since guests clearly want them, Universal Studios Hollywood has finally made the plates and bowls used in Toadstool Café available for purchase. Now you can take pieces home of the Mushroom Kingdom without having to steal them. Three items are available: the Bowser Bowl, served with Bowser's Fireball Challenge entree ($29.99), is a pasta bowl with the Bowser flag symbol on the bottom of a gray stone print bowl. The plateware set ($20) is a standalone set of three different sized plates with a carved wood print and the Toadstool mushroom artwork across the top and bottom. And the most iconic of the serveware is the Super Mushroom bowl ($19.99), a small bowl inside the face of a Super Mushroom with a giant mushroom cap as a lid to the bowl. This comes in a box and is served with the mushroom soup, which may be the best theme park food in California.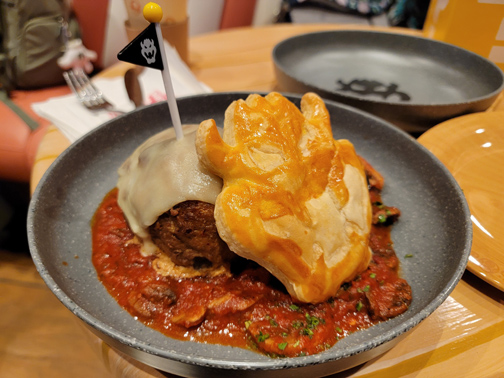 These are only available to guests dining in Toadstool Café in Super Nintendo World, and that location almost always requires a same-day reservation via mobile waitlist. Get there early in the day to book your spot as reservations fill up very early in the day.
For more information, visit UniversalStudiosHollywood.com.