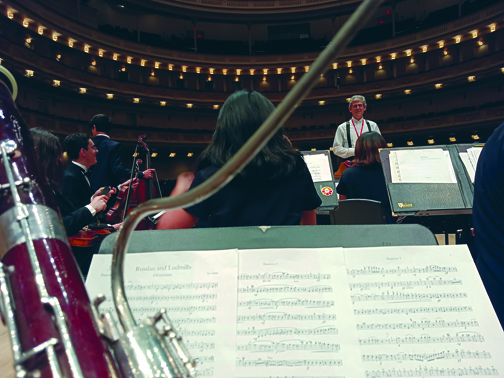 By Lucian KUGLER
The Crescenta Valley High School Symphony Orchestra and Concert Band, directed and conducted by Mathew Schick, head of CVIM (Crescenta Valley Instrumental Music), recently departed for a trip to New York, New York, "the city so nice, they named it twice." The group left from La Crescenta on March 9 and returned on March 12 after having a once-in-a-lifetime opportunity to perform at Carnegie Hall.
Carnegie Hall, located in Midtown Manhattan, is one of the most prestigious music venues in the world. Opened in 1891, the hall has hosted some of the most famous musicians, conductors and orchestras in history. The hall has also hosted other events, including speeches by world leaders including former President Barack Obama. It is a significant achievement for high school students to have the chance to perform at Carnegie Hall. It is a recognition of their talent and dedication to music, and it is also an acknowledgment of the quality of the music program at Crescenta Valley High School.
The Crescenta Valley High School Symphony Orchestra and Concert Band did not disappoint. They played a selection of pieces that showcased their skills and abilities. The program included "Jubilant Overture," "Mother Earth," "Elements," "Waltz from Masquerade," Antonin Dvorak's "Symphony No. 8, 1st Movement," and "Russlan and Ludmilla Overture." The students demonstrated their technical proficiency, their attention to detail, and their ability to work together as an ensemble.
The performance was well-received by the audience at Carnegie Hall. The students received a standing ovation; some parents in the audience said they were "moved to tears" and many praised the talent and quality of the students' performance. Director Mathew Schick said he was proud of the students and especially proud that he had the opportunity to conduct his two sons who were in both performance groups.
The trip was not just about the performance. The students also had the opportunity to explore New York City, one of the most vibrant and exciting cities in the world. They toured Radio City Hall, explored Times Square, visited the Rockefeller Plaza including the Top of the Rock Observation Deck, saw the play "Aladdin" at the New Amsterdam Theatre and took a sightseeing boat to Staten Island, among other things. The students received both an opportunity to perform at Carnegie Hall as well as a chance to experience a different part of the country and to learn about its history and culture, which was a favorite part of the journey for many of the students.
The trip to New York was a significant achievement and a testament to the talent and hard work of the students and the dedication of their teacher, Mathew Schick. It was also an opportunity for the students to broaden their horizons and to learn about the world beyond their own community.