Entering Summer…
Things continue to rapidly move forward at the MVCC. We were able to assist The Arzuman Brothers with their ribbon cutting ceremony in Montrose. We got a quick glimpse of the luxury designs and quality service they provide. If you have not yet visited their space (2343 Honolulu Ave.) be sure to do so!
We also had the opportunity to once again host our annual Cinco De Mayo Mixer with Jenkins Properties. It was a memorable one yet again.
Lastly we had the honor, in partnership with the Montrose Shopping Park Association, to remember our fallen heroes on Monday with a Memorial Day ceremony at the Montrose Vietnam War Memorial. The stories shared by some of the dignitaries that joined us that morning really stuck with us and reminded us of the importance of ensuring we "always remember."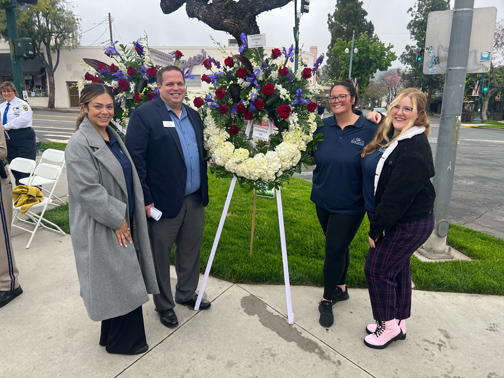 We want to continue pushing forward with this momentum as we enter summer and begin planning all of our upcoming events – one of which is the Montrose Oktoberfest. We hope to catch you all at one of our upcoming events plus shopping and dining in Montrose this buzzing summer.
Meet the newest business member of the MVCC:
Play & Talk Bilingual Therapy – Provides both clinical and home-based bilingual (English, Spanish, Persian, Armenian, Korean and Russian) speech-language services to the LA area pediatric population in order to enhance their verbal/non-verbal communication skills. playandtalktherapy.com
Sheila Rezazadeh, Keller Williams Real Estate Services – Pledges to be in constant communication with her clients, keeping them fully informed throughout the entire buying or selling process. sheidarealestate.com
…and welcoming back renewing members:
It Takes A Village – A unique kids' boutique that carries hip and fun styles that make kids look and feel great! ittakesavillagekids.com
Flintridge Physical Therapy – A state-of-the-art movement enhancement center providing clients with expert knowledge and techniques to gain maximum strength, mobility and endurance. flintridgephysicaltherapy.com
Eye Love Co. – Master Lash Artist specializing in high quality luxury lash extensions. (818) 913-8459
Merle Norman Cosmetics Montrose – Helping clients find the best skincare and makeup for over 30 years in Montrose. (818) 541-9975
Nix Marie – A women's boutique specializing in clothing and carefully-sourced accessories, home goods and jewelry. nixmarie.com
Chuck Lamm, Dilbeck Real Estate Agent – With experience in selling foreclosures, trustee sales, probates, land trusts, residential, income and commercial properties, Chuck Lamm is proud of the hundreds of friends he has helped to obtain their dream homes, investments or retirement income real estate. chucklamm.dilbeck.com
La Crescenta Woman's Club – Rent their historic clubhouse and support their continuing restoration and upgrades plus volunteer support of philanthropies. lacrescentawomansclub.org
MVCC and Member Updates/Upcoming Events:
On Friday, June 2 at 3 p.m. – Wild Açaí ribbon cutting ceremony, 2275 Honolulu Ave. Take part in the celebration of the grand opening of Wild Açaí in Montrose! Free for all.
On Saturday, Oct. 7 from noon to 10 p.m. – 44th Annual Montrose Oktoberfest 2023
The Annual Montrose Oktoberfest returns for its 44th year! To sponsor or to have your organization help run a booth email: events.mvcc@gmail.com.
Special thank you to everyone who helped us remember those who sacrificed their lives for our freedom at our Vietnam War Memorial on Memorial Day.
Remember to shop local!
Mavil Aghadjanian, Executive Director
MVCC