On Saturday, Oct. 6, Dana Gioia, California poet laureate, hosted the gathering of California's poets laureate at McGroarty Arts Center in Tujunga.
Approximately 50 past and present poets laureate from across California met for morning workshops where they networked and exchanged ideas to strengthen their individual programs and goals. The afternoon activities consisted of a collaborative reading of poetry by city, county and regional laureates. State Senator Anthony Portantino of California's 25th District also attended and read two of his poems. He also presented Gioia with a certificate of recognition from the California State Senate. This was followed by the main reading featuring Gioia, California poet laureate; Robin Coste Lewis, Los Angeles poet laureate; and Carol Muske-Dukes, former California poet laureate.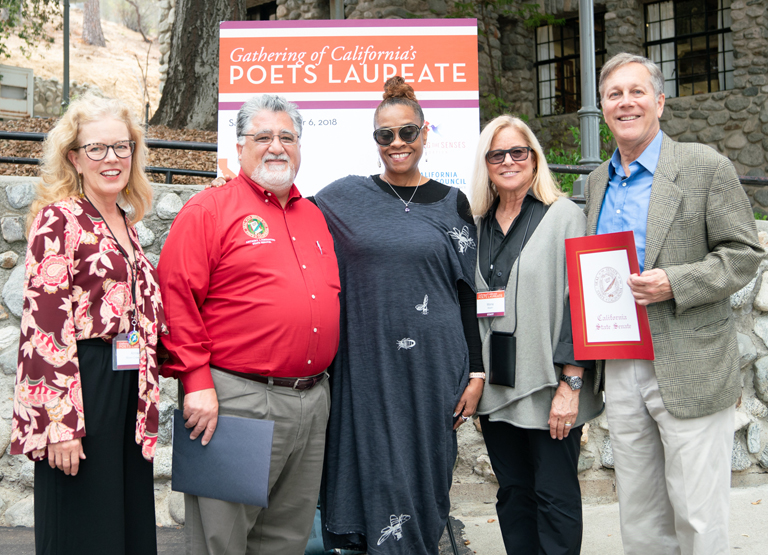 Gioia served two terms as chairman of the National Endowment of the Arts, and considers one of his greatest accomplishments to be starting the Poetry Out Loud competition for students across the nation. The official position of poet laureate of California was signed into law in 2001 by Governor Gray Davis. Gioia was appointed to the position by Gov. Jerry Brown in December 2015. As Gioia approaches the end of his term, he chose to bring this large-scale event to McGroarty Arts Center, the home of John McGroarty, who served as California's poet laureate from 1933 to 1944. City, county and regional poets laureate are appointed to their honorary positions and are champions for literacy as well as ambassadors for the areas they represent.
The McGroarty Arts Center event was sponsored by the Engaging the Senses Foundation, which seeks to illuminate the intersection of art and mindfulness; the California Arts Council, which advances California through the arts and the intersection of creativity; and the Los Angeles Dept. of Cultural Affairs, which champions the arts, culture and creativity of LA. A film crew recorded all activities and will be producing a documentary of the day's activities.
Submitted by Pam SHEA, ninth poet laureate of Sunland-Tujunga