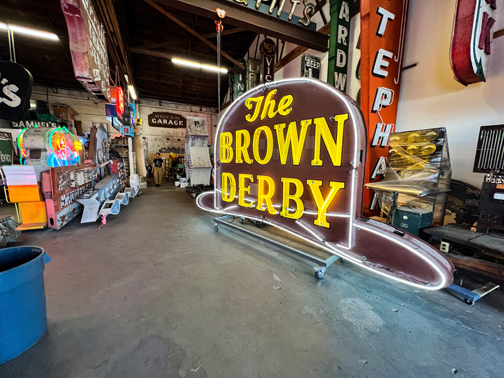 On July 9 from 3 p.m. to 7 p.m., the Museum of Neon Art invites the public into its PoMONA Warehouse for the third time in 42 years. Guests will experience 20-minute guided tours of the collection, experience neon demonstrations and receive a free driving map of Pomona Neon with tips for other cultural organizations to visit during their day in Pomona. As part of their tour, guests will be able to visit Neon Bear Brewery. The craft brewer next door to the MONA warehouse showcases neon signs and artworks from MONA's collection as well as a delicious range of brews.
Visitors will view the Museum of Neon Art warehouse, which holds new acquisitions like a 12-foot tall Knotts K, Blue Moon Motel and turn-of-the-century transformer tester. Also on display are crowd favorite signs like the Brown Derby, Flynn's, Western Motel and many more. Guided tours of the warehouse and brewery are first come, first served and limited to 20 people at a time. Visitors will need to sign a waiver to enter the warehouse. Neon Bear Brewery will donate a portion of sales for the night towards restoration of MONA's neon.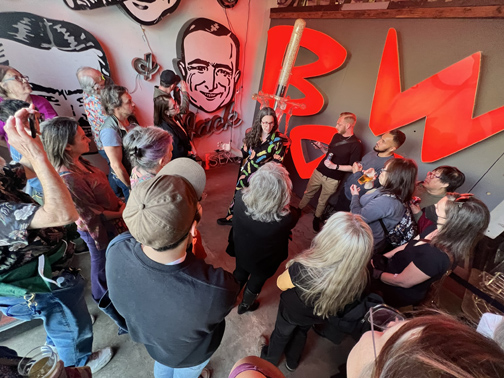 "It is a rare occasion to open our warehouse to the public because it is often filled to the brim with new acquisitions and ongoing projects. Visitors will see a range of beautifully restored signs, objects and artworks as well as those awaiting restoration," said MONA Executive Director Corrie Siegel.
Neon Bear Brewery closes at 10 p.m.
Pomona Warehouse and Brewery Tour are on
Sunday, July 9 from 3 p.m. to 7 p.m. Guided tours occur every 30 minutes. It is highly recommended that visitors order their tickets in advance on MONA's website to insure a spot on the tour. Pomona Packing Plant/ poMONA Warehouse/ Neon Bear Brewery is located at 560 E. Commercial St. #21, Pomona. The cost for MONA members is $15, general admission is $30.