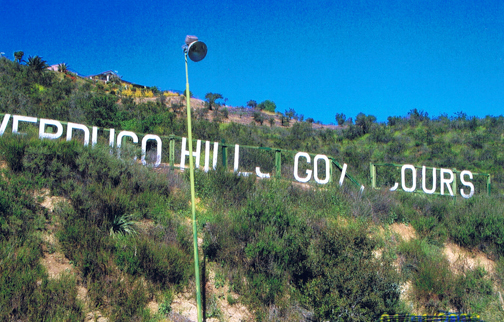 The 2015 Verdugo Hills Men's Club and the Paul G. Lindsey family, along with Rob Masters of A J Masters Glass Inc., donated time and materials for the new 83-ft. landmark sign in the hills at the top of the La Tuna Canyon Road golf course. It was a team effort by golfers Keegan Krause, Jack Gonzales, Philip Reyes, Robert Mirzkhanian, Richard White, Paul Corbett, Richard Norris, Rob Masters and Paul Lindsey. This small group took on the task of rebuilding the decayed and wind-damaged sign returning it to its original 1960s appearance. After many structural design meetings, the team contacted Brian Kanner of B K Signs, a local resident, to cut out the letters. The rest of the team painted the framework that the letters would be bolted to.
In March the group met in the parking lot of the golf course at 8 a.m. and loaded up the materials and tools needed for the refurbishment of the historic sign. After six hours in the 90-degree heat, the team loaded up their equipment and came down off the hill "dog faced and tired" but pleased that the rebuilding of the iconic Verdugo Hill Golf Course sign was completed.
This three-par course offers much to foothills golfers from ball golf to the growing sport of disc golf. This course is one of the first to offer both ball and disc golf.
Lindsey said, "I have met people who have come from as far as Ohio and even London, England to enjoy a great day of play at a pro short-game course like this one and the course has been voted the No. 1 golf course in the area by the Verdugo Hills Men's Club Association. It is one of the only sources for family outdoor fun left in the foothills."
All are invited to come to the golf park for fun and fine food from Tees on the Green café and enjoy the oak tree shaded patio, lighted driving range and golf course for night fun. The course offers bookings for private tournament ball or disk golf. For more information, call (818) 352-3161.